System Overview
2x4 Geodesic Dome Connector Kit
The Basic kit offers a low cost solution for semi-perminant and temporary structures or applications that don't have a significant amount of additional loads on the struture. (i.e. items supported or hanging from the dome structure, high snow environments, etc.)

OUTSIDE HUB CONNECTOR 
The Outside Hub is the centerpiece of the NATURAL FREQUENCY connection system. It comes in 5 and 6 strut variations and is used in all our models. It is engineered to provide a high strength low cost simple to assemble dome connection system. All hubs are labeled and color coded to match each strut for the easiest assembly of any dome system available on the market today.
BASE ROW HUB CONNECTOR 
The base row hub is the foundation of the dome strucure and the first to get assembled. The base row sets the stage for the rest of the assembly and can be fastened to any form of riser wall or anchored to the ground
Heavy Duty 2x6 Geodesic Dome Connector Kit

NATURAL FREQUENCY offers our Heavy Duty Geodesic Connector Kit for use in more permanent installations and applications where additional loads are expected to act on the dome structure or where insulation and energy efficiency are important. The HD Kit utilizes an additional connector and 2x6 lumber.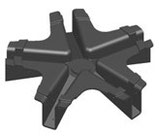 INSIDE HUB CONNECTOR
Utilized in our HD Dome Systems, the Inside Hub adds a significant increase in strength by completly capturing the strut on all sides, thereby restricting the ability of the strut to rotate and takes much of the load off the fasteners.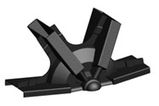 BASE ROW HUB ASSEMBLY
All NATURAL FREQUENCY HD kits come with factory assembled base row hubs. The base row outside and inside hubs are bonded together allowing them to be quickly and accurately assembled . Simply insert the correct struts and fasten to form the base of your geodesic structure.