You've Completed a NATURAL FREQUENCY Dome Kit Construction....Now What!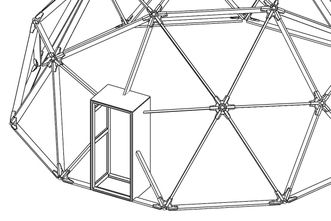 The options are endless, there are so many things that can be added to a NATURAL FREQUENCY constructed dome. Depending on the intended application, here are a few ideas:
Tongue and groove plywood sheathing and shingles (Guide for sizing panels included in every manual)
Flexible Coverings: Shrink wrap, Poly, Canvas, Tyvek, Sunshade screen
Frame in doors & windows
Plant vine like plants and create a beautiful trellis
Add a cupola or vents for helping with temperature control
We here at NATURAL FREQUENCY are experts at geodesic dome hub connectors and don't pretend to know everything that can be done with a dome or the best way to do it. All of the above ideas should be researched and experts consulted when implementing them onto a Vertex hub connected dome.
See the Construction Resources page for links and more information about what to do with your dome.