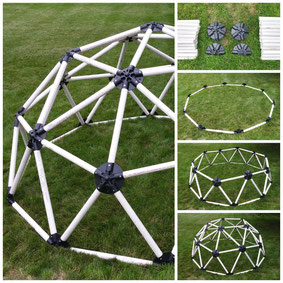 Natural Frequency announces the release of its newest hub kit in the Geodesic family. Our 2v 1.25" Pipe Hub kit is a great addition and offers our customers a solution for small domes up to 16' in diameter that can utilize either PVC or Galvanized 1.25" schedule 40 or 80 pipe.
The hubs consist of two vacuum formed ABS-plastic hubs joined together by rivets to form a complete hub. The high strength design was engineered to handle high wind and other loads.
The 1.25" Kit is great for small greenhouses, chicken coops, storage, shelters or one of many other possible uses. Click here to check it out on our products page.
read more
Natural Frequency is proud to announce that it is now offering Free Shipping on all hub kits. This is a huge advantage to our customers allowing the cost of our hub kits to be clear with no additional fees to expect. 
The free shipping is offered to the 48 contiguous states only. For International, Hawaii and Alaska, please contact us for a shipping quotation.
0 Comments
NATURAL FREQUENCY GEODESIC DOME CONNECTORS
NO CUTTING ANGLES!
NO FLATTENING TUBES!
SCALE IT TO YOUR NEEDS!
STRONG, PRECISE, SIMPLE & FAST!
NATURAL FREQUENCY offers the simplest, fastest  Hub-Only connectors as a kit for Geodesic Domes up to 48 feet in Diameter. The design of our connectors offer the Do-it-Yourself'er (DIY'er) the opportunity to quickly assemble high strength wood or pipe strut geodesic domes using your own local materials. Whether its for greenhouses, events or even a beach hut using bamboo instead of pipe, our geodesic dome connectors will not disappoint. 
Our Natural Frequency geodesic dome connectors only require you to make square cut (90 degree) cuts to each strut. Only having to make square cuts on the end of each strut takes all the guess work our of our dome assembly. It also saves you time and keeps you from wasting timber. Not using our connectors requires the cutting of complex angles that can take weeks and one wrong cut could cost an entire board or pipe. By butting the strut up to the hub connector, the angle produced is not only correct to the geodesic mathematics, but the strut is captured on all sides creating additional strength for your greenhouse, garden, event venue or shelter.
The NATURAL FREQUENCY Advantage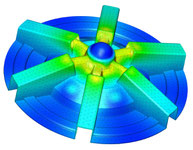 Design flexibility 

No preset sizes
Build it the size you want it by using longer or shorter struts

High strength 

Engineered for high wind and snow loads using the latest 3D design and analysis tools
Ultra-tough UV stabilized polymers.

Cost 

Lowest cost-to-strength ratio for any pre-fabricated hub on the market
No shipping fees associated with shipping the struts reduces your overall cost

Simplicity 

Truly a DO-IT-YOURSELF system
All square cut ends on struts
Color and letter coded parts and instructions, you can't put it together wrong
Easy integration with a riser wall or other structure.

Speed 

The hub connectors come pre-drilled for accuracy & convenience
Assemble the hubs with your pre-cut struts and the frame can be erected in an afternoon.